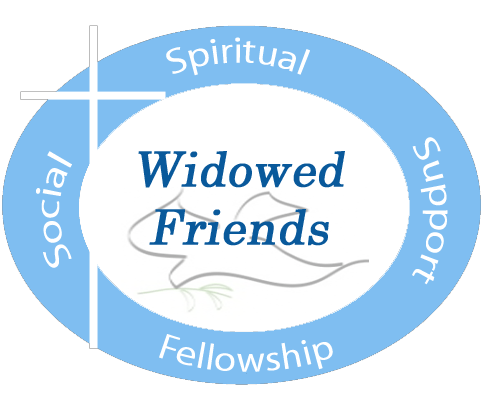 MISSION STATEMENT:

Widowed Friends

offers widowed men and women of all ages caring companionship and the opportunity for healing, spiritual development, education and wonderful new growth. Our enrichment activities meet a variety of needs to facilitate the journey from loss to a new sense of joy and purpose. Widowed men and women of all faiths are welcome.
With the help of a fine group of volunteers, Widowed Friends supports the need for members to get on with their lives by providing a variety of activities, both as small group settings and larger festive events. All widowed are welcome to attend ALL publicized activities no matter where they are located.

LOCAL HAPPENINGS

Geographic areas have been designated for members to have an idea of the general locations of events. These designations are "East", "West", "North", and "Blue Water". Each area is guided by an Area Representative who sees that smaller events are planned by volunteers in those areas. Some activities include dinners, theatre, movies, historic tours, brunches, river cruises, bowling, golf, bocce, house parties, card games, etc. Many participants within these "local" areas have developed lasting friendships and form car pools to attend events that are further away or in other geographic areas.

WIDOWED FRIENDS DINNERS & SOCIAL EVENTS

All widowed men and women are welcome to attend and enjoy meals, games, or entertainment at many different locations. These social events include a wonderful variety of diversions in places like Troy, Livonia, Chesterfield, Royal Oak, Wales, Shelby Twp, Westland, Oxford, Monroe, Marysville, Sterling Heights, Orion Twp, Dearborn, Romeo, Redford, Lenox, Washington and the Blue Water region in St. Clair County. These popular events continue to draw anywhere from 15 to 120 widowed people. In these safe and friendly settings, widowed can enjoy the company of old friends and have the experience of meeting new friends.

TRAVEL

Widowed men and women who enjoy traveling are welcome to participate in all of our travel opportunities. Currently we are not planning large excursions but in the past they have included cruises to the Panama Canal, Alaska, the Baltic Sea, and Hawaii. Bus trips have included California, the Eastern seaboard, New Orleans, Niagara Falls, and Quebec/Montreal. Hopefully we will be able to start traveling again soon.

For more information see the "Contact Us" page
​
​