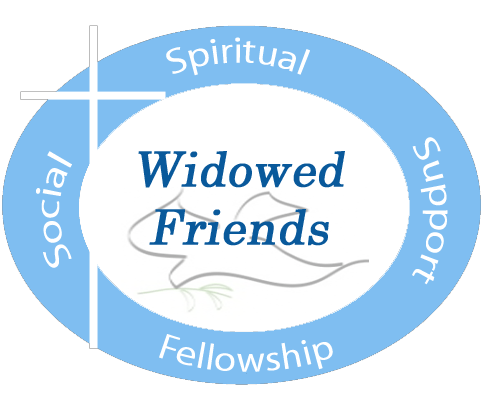 MISSION STATEMENT:

Widowed Friends

offers widowed men and women of all ages caring companionship and the opportunity for healing, spiritual development, education and wonderful new growth. Our enrichment activities meet a variety of needs to facilitate the journey from loss to a new sense of joy and purpose. Widowed men and women of all faiths are welcome.
Some people find books helpful as they process their grieving. Below is a list of suggested reads.
​
If you were to buy just one book, an excellent choice would be: "Healing After Loss – Daily Meditations for Working Through Grief", by Martha Whitmore Hickman. It provides a short one-page daily reading for a year. It is not a book to read straight through. If read daily, a page at a time, it will provide fresh insights gradually, as we move through our pain. Some days you will think that it was written just for you! The author writes: "Eventually we will find our way through this particular valley of the shadow and while there may always be a tinge of sadness, there will come a sense of our own inner strength and our ability to rejoice in the life we have shared and to look toward a future in which the loved one, though not physically present, continues to bless us." This is not a book to get at the library. You need your own copy to read day by day as you gradually find that inner strength.

There are a number of books designed to help children understand death, but it is more difficult to help children understand the grief of the adults around them such as a parent or grandparent. If you have children or grandchildren who are sharing grief with you, it could be helpful if you would read this book together. "Tear Soup" – A Recipe for Healing After Loss", by Patricia Schwiebert & Chuck DeKlyen has large, colorful illustrations that appeal to children. The compassionate story-telling will help YOU identify your most helpful supports. You will recognize among your friends the ones who want to give advice, the ones who have no idea what you are going through and the real friends who grieve with you.

"The Healing Journey Through Grief…. Your Journal for Reflection and Recovery", by Phil Rich, is a source of comfort and guidance. It is designed to help you work through the emotions, thoughts and memories that surface when you have lost a loved one. It invokes the healing power of writing to provide you with means for collecting your thoughts, sorting out your feelings and taking an active part in your own recovery. Dr. Catherine Sanders describes it as, "A wonderful guide for the bereaved. This journal provides valuable information, but it also allows the griever to make his or her own way through the painful mourning process."

"Surviving Grief ... and Learning to Live Again", by Dr. Catherine M. Sanders, a therapist specializing in bereavement and one who has experienced significant personal loss, examines different experiences of grief, discusses the factors that increase problems in resolving grief and offers compassionate guidance for working through the different stages of the mourning process. She points out that we all go through common experiences or phases in dealing with grief. Highly recommended as a helpful tool by professional and group facilitators alike, this book is a must read.
​
"My Teacher's Name is Grief ", by Madeleine Miehls, tells her story, in her own words, about the lessons she has learned while moving through grief. We can all benefit by listening to her message. Through a story of love and hope, she makes us believe that there really is a silver lining at the end of a dark tunnel, but we have to work to reach it. The book offers words of wisdom, and each page includes an illustration to complement the text. Don Rush, assistant publisher at The Oxford Leader, summed it up best in his review: "What a wonderful simple book or is it simply wonderful?" This wonderful book is available through Barnes & Noble and Amazon.com online. By the way, Madeleine was a member of Widowed Friends!!

The authors of, "Getting To The Other Side of Grief", Susan J. Zonnebelt-Smeenge and Robert C. DeVries, write about their own professional and personal experience. Susan is a licensed clinical psychologist who faces the issues of grief and loss regularly in her practice. Bob is an ordained minister and teacher who deals with the issues of grief in a pastoral context. Both have experienced the death of their spouse. The collaboration of this book is a result of their own personal grief journey. Each chapter addresses specific issues in the grieving process from both the psychological and the spiritual perspectives. The primary metaphor of this book is that of a journey. This is not to suggest that there are stages or phases to the grief process, but rather that there are some significant landmarks along the way that help those who are widowed accomplish necessary tasks in order to move to the other side of grief. This book is definitely a recommended read.


For more information email widowedfriendsaod@gmail.com