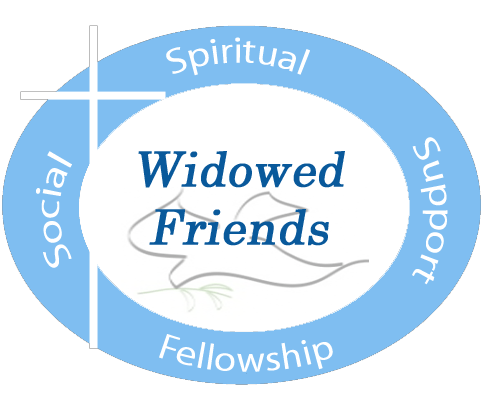 MISSION STATEMENT:

Widowed Friends

offers widowed men and women of all ages caring companionship and the opportunity for healing, spiritual development, education and wonderful new growth. Our enrichment activities meet a variety of needs to facilitate the journey from loss to a new sense of joy and purpose. Widowed men and women of all faiths are welcome.
WELCOME

All widowed men and women regardless of faith affiliation or length of time since the death of a spouse, are welcome to participate in all activities and special events. Widowed Friends is a one hundred percent volunteer organization. It is self-governing and financially supported by its membership. Learn more about our entire social and spiritual activities by checking out the pictures on the HOME page. We encourage all widowed to try attending any of our activities to discover why so many find support, new friends and many activities to enjoy in safe and friendly settings.
​
HISTORY
​Widowed Friends was formed as a peer ministry to the widowed "to facilitate the journey from grief to a new sense of joy and purpose." In 2002 due to the diligence of our wonderful founders, Patricia Rom, Shirley Coster, and the always gracious, energetic, and kind MARY BLOCK, Widowed Friends became a reality! Unfortunately, Pat and Shirley have gone to their heavenly rewards, but Mary is still with us, and we are all very grateful to her. When you see her at an event make sure you give her a great big thank you – or give her a call! Our membership is open to all men and women who are widowed regardless of faith, age, ethnic background, or race. Since its formation in 2002, Widowed Friends has continued to grow in membership. We want to take this opportunity to welcome all the new members who have joined us. We sincerely hope you feel comfortable and welcome at our events, seminars, and activities. Hopefully, along the way, you will make new and lasting friendships.
JOIN US

Our newsletter contains details about upcoming events and contact information. In addition, under the 'SIGN UP' tab, a Membership Application can be printed and submitted - don't forget to PRINT your name, address, and email and to include your legal signature - and mail as instructed on the Application. Registered members receive hard copies of the newsletters in the mail and receive an email copy - if you include your email address.